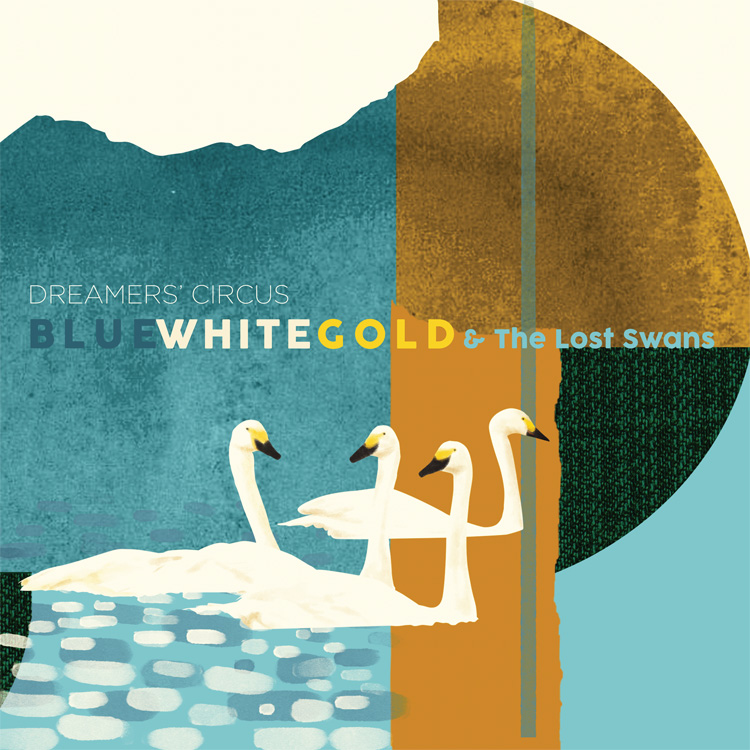 Dreamers' Circus 2020-album 'Blue White Gold' og fire ekstra numre, som blev udgivet digitalt tidligere på året under titlen "The Lost Swans", er nu udgivet i fysisk form som en dobbelt Vinyl
Available for the first time on high quality vinyl this features their 2020 album 'Blue White Gold' and four extra tracks which had a digital release earlier this year under the title "The Lost Swans" but are now finally available in physical form.
Having released the CD version of Blue White Gold in May 2020 it became clear that there was a little unfinished business left to complete. There is one single white swan depicted on the cover artwork of Blue While Gold. Inspired by the symbol of five swans that represents the Nordic countries of Denmark, Sweden, Norway, Finland and Iceland – and also by the music of those countries, we conjured up the title 'The Lost Swans' and our graphic designer, Dani Hasse, obliged with an illustration. There are elements of Norwegian music in 'North of Trondheim', Swedish influences courtesy of band member Ale Carr and of course the Danish heritage that Dreamers' Circus continue to mine and celebrate.
The four 'Lost Swans" feature a radical re-take of the Faroese traditional song, 'Brestiskvæði', which is a collaboration with Faroese singer Teitur. There's a beautiful hymn tune, 'Befal du dine veje' that we picked up in the Faroe Islands on a trip there in 2018. There's a take on some traditional music from Finland in the form of the dynamic 'Taklax Polskas' and a more meditative new piece from the band entitled 'Wednesday Afternoon'.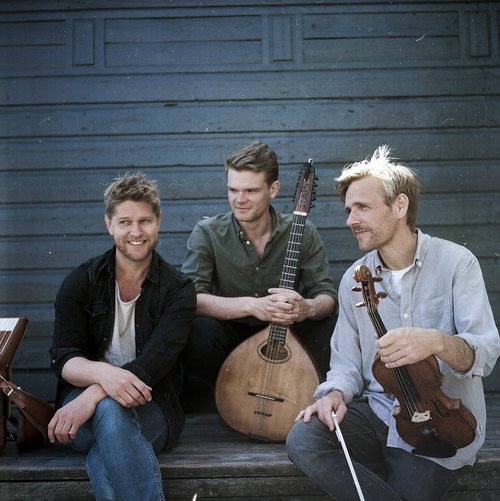 Dreamers' Circus: Nikolaj Busk, Ale Carr, Rune Tonsgaard Sorensen – Guest: Teitur
Featured instruments: Violin, Cittern, Grand Piano, Accordion, Guitar, Synthesizers, Ukulele, Kannel, Moog, Harmonium, Pump Organ, Clog-Fiddle, Tagelharpa, Double Bass, Percussion, Melodica.
Recorded at:
The Village, Copenhagen, by August Wanngren and Thomas Vang
Hjallurin hja LISA, Tórshavn, by Teitur
Farvemollen, Copenhagen, by Mads Mglgaard Helbaek
Studio Bloch, Torshavn, by Theodor Kapnas
Side A
1. North of Trondheim (03:13)
2. The World Was Waiting (04:03)
3. When All This Is Over (04:36)
4. Bubbles in Central Park (03:55)
Side B
1. Bridge of Tears (04:26)
2. Bridal Tunes for Rune and Marta (04:10)
3. The Whale Road (01:03)
4. Brestiskvæði (03:03)
5. Waltz for Miyazaki (02:57)
Side C
1. Pentamime (06:22)
2. No News (01:13)
3. Blue White Gold (07:54)
The Lost Swans
Side D
1. Wednesday Afternoon (02:34)
2. Taklax Polskas (04:31)
3. Brestiskvæði feat. Teitur (06:43)
4. Befal du dine veje (07:01)